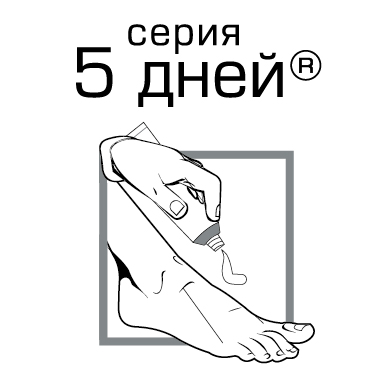 Beauty and health of your feet is the result of daily and careful care. Dry feet skin, fissures, corns, perspiration odor, feeling of tiredness, puffiness, poor  vascular tone - these are only some of the problems that create discomfort. Cosmetic and professional line 5 days helps to solve all of them!
The line «5 days®» and «5 days® Professional» – is a therapeutic complex of cosmetics, which effectiveness is proved by clinical trials. This cosmetic is produced especially for preventing and solving the most actual problems in feet care. 
 The line «5 days®» includes natural plant origin components, vitamins, essential oils, ingredients, whose main function is prevention of  fungus disease infections. We use the highest quality   raw materials. The cosmetics are produced according to all the necessary pharmaceutical conditions. 
The line's range «5 days®» lets you choose the most comfortable product's form: creams, lotions, powders and footbaths. 
The line also includes nail, foot and hand skin care resolutions. Within the line «5 days®» there has been developed  a special line DIA, which is meant for foot skin care of people with diabetes. 
The line «5 days® Professional»  has been produced for solving  difficult problems. The latest developments, created in modern research laboratories and the newest scientific achievements
in association with high quality plant origin components are presented in this line. The line «5 days® Professional» is  a perfect choice both for professional and home foot skin care.
Regular use of the line «5 days®» products, developed by experts in the area of foot skin care, allows you to fearlessly take  your shoes  off  and makes your feet healthy and beautiful.